09/02/14 - Crazy Chaos at Tokyo Narita Airport
Hey guys~
It's been a while since I blogged! I actually only just got back from Sapporo today, I was over there for about 6 days for the snow festival! While I love Hokkaido, the cold and snow was a bit too much for me so I couldn't wait to get back to Tokyo haha. I will definitely go back to Hokkaido though, maybe in summer next time! It's definitely one of my favourite cities to visit now in Japan.
Today I just wanted to tell you guys about my crazy day before I forget what happened lol. If you guys didn't know, yesterday (8th Feb 2014) there was a crazy snow storm apparently in Tokyo. I was in Hokkaido so I didn't hear much about it, but I saw that a few of my friends had been stranded at New Chitose airport in Hokkaido. Anyway, I didn't think anything will happen to us, our flight was at 10.20am since we wanted to be back in Tokyo in time for lunch, relax, do our laundry etc. Well, all was going well. We woke up at 6.30am to get ready, and decided to take the 8.55am train from Sapporo to get to New Chitose Airport. We were rushing to get the 8.55am train since we only got to Sapporo at 8.40am by miscalculating the times of our train so we were worried we were going to miss our flight.
We got to New Chitose Airport and o-m-g. There were people EVERYWHERE. People lining up for their flights, people on the floor with blankets and cardboard sleeping... just thousands of people everywhere. Ok so we ran to our check-in counter which was a bit hard to find, but when we got there we found out that our flight had been delayed.. for about 2.5 hours. Our flight was meant to leave at 10.20am but was now going to leave at 12.50pm. Yeah, it sucks but it's not that bad. At least we weren't stranded at the airport. There were thousands of people stuck at the airport because all the flights to and from Tokyo got cancelled the day before.
So that wasn't too bad for Eric and I because we had a chance to explore Chitose airport. Got to try ramen in Hokkaido and got some yummy chocolate from a chocolate store there! Anyway our boarding time kept being pushed back and back. But it wasn't the airline's fault, every single airline's flight was getting pushed back, and we were lucky they weren't cancelling the flights. We finally boarded at 1.15pm... and sat on the plane for a long time. We didn't take off until 2.20pm so yeah, we sat in the airplane for 1 hour. I can't remember how long the flight took, but we weren't able to leave the aircraft until around 4.30?
Getting back to Tokyo, we picked up our luggage and proceeded to head out to the train tracks so we can get a train to Tokyo. Since our flight was domestic we landed at terminal 2. We got out after picking up our luggage... and wow. There were people EVERYWHERE, much worse than Chitose airport! People sleeping all over the place in sleeping bags and the lines are crazy! As we headed towards the train tracks (it was very hard to weave in and out of people), we saw something that wasn't right... The police were there and had closed off the escalators to go down onto the train tracks! :( There was a HUGE line of people waiting to get onto the train tracks and I was not going to wait there in line. We decided to go find an elevator but that didn't help, there were about 100 people standing there with their luggage trying to get onto the platform as well! At this point I had enough and suggested to Eric that we just take a terminal bus to go to Terminal 1 instead since it is bigger and I know it better.
For an idea of what the airport looked like: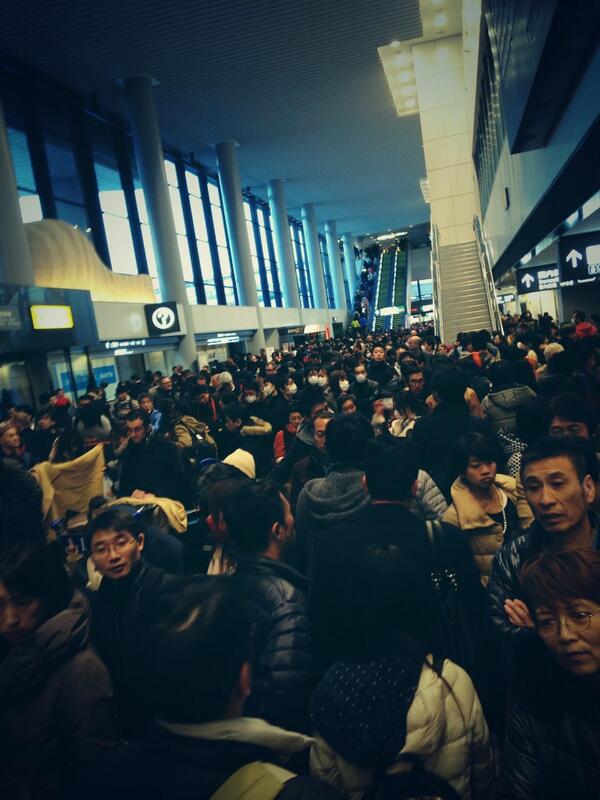 Picture from patrick_plourde @ Twitter
It was seriously like that throughout the airport.
Anyway, we got on the shuttle bus to go to terminal 1. The first bus was completely full but another one came within 1 minute so we got on that to go to terminal 1. Terminal 1 was the same, if not, worse than terminal 2. There were even more people stranded because trains had stopped running and people ended up missing their flights. We went to the escalators again to go downstairs to the train platform. Again, police had sealed off the escalators, BUT they had stairs which we were allowed to use to go down? We used the stairs and as we went down we saw that all the escalators going DOWN had stopped, but the ones going UP were still running. We carried our luggage down the stairs (didn't have much, we only had 10kg each which was fine) and saw.... THOUSANDS of people waiting in line to get a train to TOkyo.
From my twitter: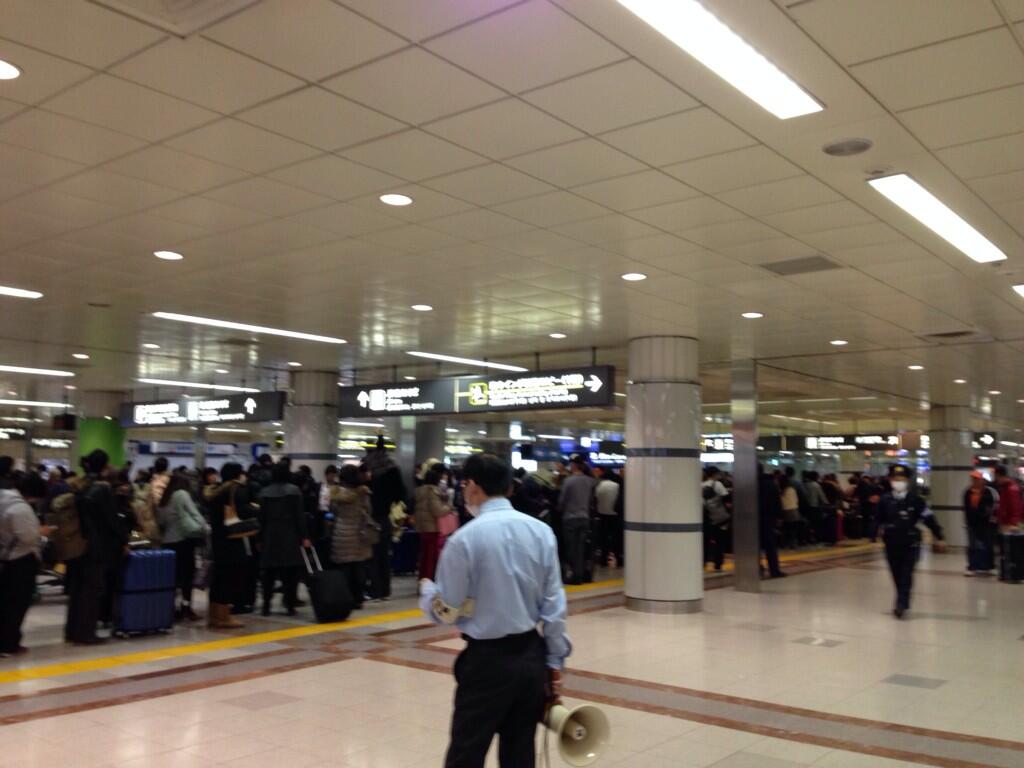 That was just one side, there were heaps more people on the other side.
We were wanting to buy tickets to use the NEX train to get to Shinagawa, however it seemed that the train stopped running completely... We heard a Korean guy trying to talk to the JR girl asking for help, but the girl didn't make much sense. She said something like "many people, so many people, JR wait in line". It was something along those lines, Eric and I felt sorry for the guy so we tried to help him out as much as we could :/ Anyway, Eric and I decided to ask someone else in Japanese if the line we were in was for JR since the Keisei line was suuuupppper long. The train guy told us it wasn't and JR was through the glass doors, but we had to run because they were going to close the door soon. Eric and I bolted for the door and as soon as we got through, the police closed the doors so no-one else could get in. We got onto the train which was already packed, but at least we were on there.
I couldn't believe that we actually made it onto a train, when there are thousands of people at the airport still waiting in line to get on one. The Keisei liners were faster than JR but they were all delayed as well which made everything worse. Anyway, it was a very good idea to get to Terminal 1 first because when we got to terminal 2, more people boarded but we noticed that only a number of people were actually allowed onto the platform. The train ride was very... VERY tight. So many people were packed onto the train, we were all literally squished like sardines.
The problem with the train we took was that it made stops for at least 10 minutes at every station, which meant it took forever to get back to Tokyo station. In the end it took about 2.5 hours to get back to Tokyo. It was not too bad for us, we were super lucky since we got back around 7.30pm and were just in time for dinner. There are still hundreds of people still at Narita airport trying to find a way back to Tokyo... We were lucky we knew Tokyo well enough to know where to go, otherwise we would've also been stranded at the airport.
Even though we were lucky, it still sucked. My plan of the day was:
6.30am : Wake up
8.55am: Take the train from Sapporo to New Chitose Airport
10.20am: Fly to Tokyo
12.05pm: Arrive in Tokyo
1.30pm: Arrive at apartment
~ Relax, do laundry, have lunch
4pm: Go to Shibuya to do some shopping
6.30pm: Meet a friend for dinner
Unfortunately none of that happened lol. We went straight to Shibuya with our luggage to meet my friend (which was a nice dinner!) Also we were super lucky we decided to book the 10.20am flight because the other flights after us to Tokyo got cancelled..
Anyway, that's enough of my (long) rant, I better get to bed now for tomorrow!