Margaret River Road Trip
Hey everyone!
I've been away for quite a while on my blog, but mainly because things have been quite hectic for me lately. A lot of things going on, but over the weekend I got to relax with a few of my friends on my first road trip!
We decided to go to
Margaret River
, which is just south of
Perth
by around a 4 hour drive. I've never actually been down south of Perth before, despite living here all my life! The one thing that I do love about Australia is the beautiful nature we have here!
We started driving down in the early afternoon so we would be able to make it there before dark~
The drive down to
Margaret River
is quite long, about 3-4 hours. We were going to stop by
Busselton
for a little bit but we decided to go straight down so we can get to
Margaret River
earlier to check in at our apartment. We did make a quick stop at a petrol station on the way to stretch our legs and get some quick snacks.
We passed through this little town called
Cowaramup
, and like the name, the town is full of cows! It was really cool!
Finally made it to the Margaret River city center!
The place we stayed is right near the beach :) I believe the place we stayed at was the Margaret River Resort Apartments. Each apartment was fully furnished, had a living area with TV, kitchen, 2 bedrooms (can request what beds you want) and a bathroom. I didn't take any photos of the apartment unfortunately but it was nice. Not sure if I will stay there again though since it is quite far from everything.
We just relaxed at the pub where our apartment was and decided to get dinner there as well~ This was at
Gnarabar Bar and Bistro
Most people got the steak, I had a bit of Erics and it was really nice!
I had the gnocchi! It was good, but I thought they should've put in more sauce and less raisons. But it was still good!
For dessert I shared the pudding with my friend Aimi. It was a bit drying for me, I personally like puddings that are a bit more moist. I still enjoyed it!
The next morning we decided to go get some breakfast as recommended from the guy who rented us the apartment. It was just right at the beach which would've been a beautiful view... except it was raining heavily that day :( I was very lucky that I bought a few sweaters and jackets along with me. The weather has been super hot in Perth lately that I was afraid I wouldn't be able to wear half my clothes because it would be too hot! I packed them anyway because I was in a rush while packing (decided to pack 1 hour before I left haha). It was the best idea ever because at least I was able to remain warm!
Because of the wind and rain, we decided to get takeaway and bring it back to the apartments to eat.
After that it was off to the wineries! I don't know much about Margaret River so I let all the guys organise everything. I'm not really a wine drinker but I was happy to tag along to the wineries to snap some photos! (And also I was happy to be the designated driver if they drank too much haha)
So much rain :(
First winery was the
Berry Farm
!
The boys tasting the wines
The thing I liked about the Berry Farm was all the tasters they had for their jams! A lot of their jams were really delicious! I bought one back as a souvenier for my family
Next winery was
Xanadu
!
The guys running in the rain hahah
Next was
Watershed
! Voyager was closer but because it was raining, we wanted to wait until the rain settled down first.
The view was really pretty outside!
Time for lunch! For lunch we booked
Swings Taphouse and Kitchen
at
Margaret River
. I seriously ate the best pizza ever there! The food was all so good! If you ever head down Margaret River I definitely recommend you try out this place, it had some of the best food I have ever had!
We ordered a couple of tapas dishes to share between us
I can't remember what this is called, but maybe fried chicken? Or chilli chicken? Anyway it was seriously so good, the sauce was just awesome!
This was their special pizza of the day, lots of mushrooms and cheese underneath! It was REALLY good, best pizza I've had so far! (I'm obsessed with mushrooms and cheese!)
I can't remember the name of this, but it had Italian sausage in it and more meat! Wasn't as nice as the other pizza but it was still super delicious!
Duck! I wasn't really a fan of duck because of the dry texture, but this wasn't drying at all! I loved the sauce they had with this!
This was the squid dish. I didn't eat it because I don't like seafood for one, and also I almost choked and died on a squid ring before (long story, but it got stuck in my throat and it was really painful pulling it out).
The mushroom dish was super good!
Seriously one of the best places for lunch I've had in a while! Definitely the best tapas I've ever had in my life! Everyone should check this place out if you ever go to Margaret River!
After lunch it stopped raining so we decided to head to "
A Maze'n
" which is huge maze attraction! Eric and I had the buy one pass get one free from the entertainment book and everyone was interested to try it out! I've never been to a maze before so I was really excited!
The fee to enter was pretty expensive however.. it was $18 a person but if you go down to Margaret River, might as well try to have as much fun as possible right?
Group photo before we went into the maze!
And the maze itself!
We split up in pairs originally but then we kept bumping into people haha
Eric and I got a bit overconfident and thought we had the maze in the bag haha. We thought that the maze was super easy because we never crossed any places where we had to make a decision to go one way or the other. We then quickly realized we were too ahead of ourselves and then got lost hahaha. We kept thinking we've been down an area before but then we realized that every single way looked the same because the hedges were all so high up!
In the end we got out around 14 minutes later :P
Eric and I felt like icecream so we got a bubble gum icecream to share!
Well, I ate most of it because the others wanted to play frisbee haha
There were more things to do around there like some more mini mazes and also a big chessboard (but unfortunately people were occupying it at the time).
Since the weather was nice, we decided to quickly head off and go to the
Voyager Estate
which was close by. This one has to be one of my favourite wineries so far! The gardens surrounding the place is GORGEOUS! I'll let the photos do all the talking!
Hmm my hair looks like it's getting really long, maybe I should cut it again haha
Another group shot!
I didn't take any photos inside since I was too busy looking at the books they had! They had really cute photobooks with pets at the Voyager Estate so I spent most of my time looking at that :P
After that everyone was pretty much super tired. We wanted to go to the caves to explore but it was almost 4pm and we wouldn't have been able to get into the caves when it got dark. Instead, we just decided to go back to our apartments and then head down to the beach to relax. Too bad it was too cold and windy to swim :(
That night we just got takeaway for dinner (which was really mediocre) so I didn't bother taking photos :P
The next morning we woke up early to check out of our apartment so we can go to the caves that we missed out on the day before.
It was $22 to enter the cave, which I must say was a rip off. The cave indeed was big and beautiful, but it wasn't work $22 to enter I think. We got some headsets that we could use to listen about the history about the caves and all, except I got bored pretty quickly after the first checkpoint haha. It was kind of getting in the way so I just ended up taking it off so I could take more photos.
Anyway the cave we went to was the
Mammoth Cave
Inside the caves..
Made it out! We had to walk a bush trail which was really nice! It was lovely to just smell the fresh air!
After that we then decided to leave Margaret River so we could make it to Busselton in time for lunch. I really wanted to see the
Busselton jetty
since I've never seen it before!
Luckily the weather was beautiful!
Remember the mysterious train that kind of went off the jetty and into the sky in Spirited Away? Apparently the Busselton Jetty inspired that scene!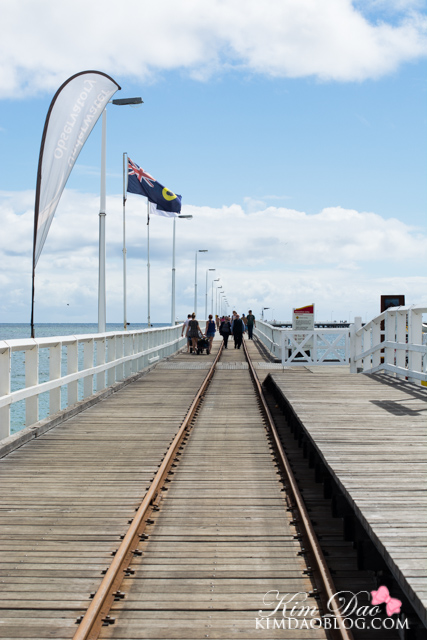 There really is a train track there! And there is a tram that takes you down to the end where there is an underwater observatory
Anyway that's all for this post! Hope you guys enjoyed it since it is a lot different to my other posts!